Lungi in English is a large piece of cotton cloth. Lungis are worn in multiple states of India such as Tamilnadu, Kerala, Karnataka,& Andhra by men. Lungis are available in multiple colors and designs such as checked, plain colored, white checked and flower printed patterns. In Tamilnadu, lungis are worn and tie in a different style; the steps to wear lungi in Tamil style are as follows.
Steps to wear stitched lungi in Tamil Style
In general, Lungis are sold in 2 formats; stitched and unstitched. The steps to wear stitched Lungis in Tamil style are very simple. Check the steps below,
Step 1:
First, put on your lungi through your head or from your legs.
Step 1:
Stretch on both sides following this you need to fold the right edge to the middle of your waist.
Step 3:
Then overlap the other edge of your lungi over the first half. Bring it in the middle and also make sure that the lungi is tight against your waist.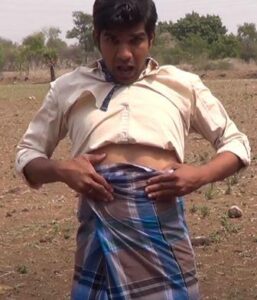 Step 4:
Now, make two small folds from the top towards the downside. Roll down again until you feel tight.
Step 5:
You can also fold your lungi at the 3/4th of your leg. This is just to add comfort during walking and running.
Check your stitched lungi is tied perfectly and fits the waist. Lungi overlap end must come in the middle of the two-leg space. But there must be underwear worn under it.
Two Common types to fold stitched lungi:
As I mentioned above, You can fold your lungi at the 3/4th of your leg. This will add extra comfort during walking, running, and sleeping. In Common, there are 2 type of folds.
Fold 1:
The first type is to lift the lungi after tying, raise the lungi material that is below the butt end at the backside and move it upwards like an overlap.
Then fold the top of the lungi from right to center and then left to center overlapping the first layer and tuck in on the top. This will help you work in fields or construction at ease. 
The end output of the fold lungi looks in a 'V' shape in the center. The knot looks like a bow-tie and neat. This is ending below the knee level.
Fold 2:
The second type is, fold the lungi up to the knee in an upward direction., then straighten it and then fold the left end to the right end and right end to the center and tuck the edges in.
This entire lungi fold pattern looks local. Also, this one is ending at or above the knee level. The most important thing is the tight tying of the lungi is very important.
For clear understanding, check this video. Image and video credits to "Creative World" YouTube Channel.
Step by Steps to Wear Non-Stitched Lungi
The wrapping of non-stitched lungi is simple as like stitched lungi.  The only difference between stitched and non-stitched lungi is the ends are not stitched to one point.
Step 1:
First, hold the lungi at the back of your body with each half on perfect balance. . Otherwise, the final finishing will not be proper.
Step 2:
The second important step is the INITIAL WRAP. Wrap half your lungi around your body from right to left.
Step 3:
Now WRAP the other half of your lungi over the first half and tuck inside your waist. This second wrap needs to be ending in the gap between the two legs when the legs are spread apart for 0.5 meters on each side of the midline.
Step 4:
Make sure your lungi fits in your waist.
Step 5:
This final step is for your extra safety. This was found when there were no belts or modern clips to hold it in position for a longer time. The top end of the tucked lungi must be rolled twice towards downwards. This prevents the lungi from falling down.
Wearing lungi in Tamil style will bring a modern or classic look to you. While you are working strenuously or running faster, lungi is the best option.
Who Wears Lungi mostly in Tamil Nadu?
Lungis are mostly worn by workers, farmers, and old-aged peoples. But do only such workers use it, It is also worn as a nightdress as India in the South is hot always except during the rainy season in both cities and villages. 
In villages, almost every man wears lungi both during day and night. This is one category of cultural or traditional dressing style. This is most commonly used in young and men who are below 50 to 60 years. Others start wearing dhoti.
Why Tamil People Wear Lungi?
Tamilians and Keralites like to wear lungi more as it is more convenient during strenuous fieldwork and summer sun. Wearing lungi offers several advantages like comfort, aeration, and more.
As per their wish, they can tie and there are 2 specific patterns to tie lungi.
The above pattern of wearing lungi is even more simpler and can be used for both stitched and non stitched Lungis. But this is to be supported with some belt or some tightening objects when done strenuous work.
Also, the stitched lungi might look bulkier than non-stitched ones. Few men like to stay in this type because they are more comfortable. But an interwar is very necessary.
Is wearing lungi to the office allowed in Tamil Nadu?
Though it is traditional attire, it is only considered as a nightdress. So, in Tamil Nadu, it is not allowed in offices. Never will it be accepted in the future too. 
As all the offices are government or private there is a dress code that needs to be followed. 
Obeying company rules is very important. When they do work from home then it's their wish to choose this with a tie and coat. 
In some offices, they allow regular pants and shirts or jeans. Maybe when this is recognized in the future this might be allowed, let's keep the fingers crossed.
5 Tamil Movie stars in Lungi
In the Tamil film industry, the actors are given local attire to show the local costume all over the world. Here are a few of the Tamil heroes who wore lungi as their costume.
1. Vijay in Bigil as "Michael Rayappan"
This type of lungi is mostly worn by old age people. In this local get-up Vijay, who is one of the leading actors in Tamil looks like a local don. More specifically the actor when wearing this type of dress automatically gets a villager feels and acts with more passion. This feel is what uplifts the movie box office range.
2. Surya in Thaanaa Serndha koottam Opening song "sodaku mela sodaku poduthu"
Surya starring Thaanaa Serndha koottam is more liked by many of his fans. Being an introduction song the director has shown the regional significant attire. Both the public and the film industry people have got mesmerized by his lungi attire.
3. Dhanush in Aadukalam Movie song "Otha sollala" and entire movie
Even Though the entire movie was based on a village theme the looks of the actor Dhanush with lungi help the director to deliver the idea to the viewer even better. The connectivity was twice better than regular topics.
4. Sivakarthikeyan in Velaikkaran opening song " Karuthavanlaam Galeejaam"
The combination of a simple t-shirt with lungi gives a mass look attracting all the localities. The recently developing star has dared to wear the local attire. This picture is a push for both hero and the public.
5. Simbu in Mufti remake "As local gangster"
Lungi with design or without always gives a playboy or rowdy effect. Also, in this gesture, Simbu has tied it in perfect don style. The stunning appearance of Simbu is acquired because of the attire and not because of his action alone.
Conclusion
Lungi is traditional clothing and it is liked by many men. Few do not like it because they easily untwine and always are too supported with belts for the present generation. This is more convenient for regular people who work under the sun. Since the material is cotton they keep the body easy while sweating.